MK-5010 Series Super-Matic Block Saws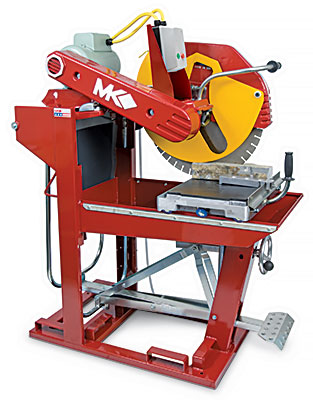 The MK-5000 Series of heavy-duty industrial stone saws have been designed to meet the demands of industrial production. 1" self-aligning pillow block bearings, along with a host of innovative operator conveniences and safety features, boost productivity and efficiency.
Heavy-duty blade shaft and bearings for trouble free performance
Heavy-duty conveyor cart to support additional weight
Operator safety handle on conveyor cart
Foot pedal for hands-free cutting
Advanced blade guard system for added operator safety
Optional variable speed motor controller available on 460 volt saw
Precision screw feed mechanism allows the cutting head to be easily raised or lowered to the precise cutting depth required
Open-back design allows for material up to 20" long to be cut
Conveyor cart built from heavy-duty cast aluminum
Stainless steel rail liners
3 phase saws are equipped with NEMA 4X rated motor starters
Adjustable water supply for maximum blade protection
Built-in tie-downs for safer saw transport
Ergonomically designed handle for reduced operator fatigue
Spherical rod ends are used to maintain proper cutting head alignment
Heavy-duty built-in forklift brackets allow lift to approach from the front or either side of the saw
Daily greasing of bearings is eliminated with new heavy-duty oil-bath blade shaft
Optional Automatic Water Flow System - water flow is activated by the moving cutting table towards the blade and automatically interrupted when the table is brought to the operator's position.
Made in the USA
One-year limited warranty
MK-5010 - 10 H.P. Saws
Model
Voltage
Blade Guard
Part #
MK-5010S
230V 1 Phase
24"
166929
MK-5010T
230V 3 Phase
24"
166930
MK-5010T
460V 3 Phase
24"
166931
MK-5010T
575V 3 Phase
24"
169335
Blade not included.
General Specifications
Arbor Size
1"
Motor RPM
1,725
Shaft RPM - 24" Blade
1,540
Depth of Cut - 24" Blade
10"
Length of Cut
20"
L x W x H
53" x 26" x 63"
Shipping Method
Truck