CC-100 Crack Chasing Saws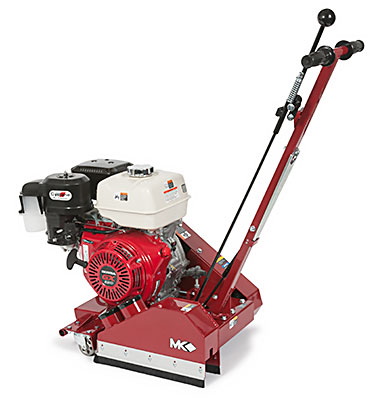 Highly productive crack chasing saws for cutting concrete or asphalt. Cuts 6' to 8' per minute (up to 3,000' per day) depending on material being cut. 1-1/8" maximum cutting depth with 8" blade. Highly maneuverable - uses small diameter dry diamond blade allowing for tighter turning radius. Can be used for joint clean-out with optional straight cut wheel kit accessory. One-year limited warranty.
Part Number
171320-13H
Motor
Honda GX390
Horse Power
11.7
Max Cutting Depth
1"
Blade Diameter
8"
Blade Width
.250" - .500"
Blade Arbor
1" with Drive Pin Hole
Weight
140 lb.
Blade not included with saw.
Engine power ratings are calculated by the individual engine manufacturer and the rating method may vary among engine manufacturers. MK Diamond Products makes no claim, representation or warranty as to the power rating of the engine on this equipment and disclaims any responsibility or liability of any kind whatsoever with respect to the accuracy or the engine power rating. Users are advised to consult the engine manufacturer's owners manual and website for specific information regarding the engine power rating.