MK-1813H Gas Concrete Saw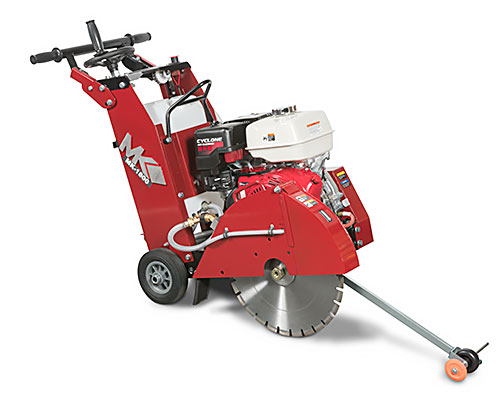 The MK-1813 concrete saw is designed for wet or dry, general application sawing. The heavy-duty frame is made from hot-rolled steel providing maximum durability and the reinforced box steel construction provides balanced weight distribution. The ergonomic vibration dampening handlebars reduce operator fatigue. The depth control assembly allows the blade to be raised and lowered to the desired cutting depth easily. The Micro-V 20J belt provides maximum power transmission to the blade shaft. One year limited warranty.
Pneumatic assisted depth control assembly for smooth, controlled blade raising/lowering
Durable 8" x 2-1/4" non-slip rubber wheels with maintenance-free hubs & roller bearings
Ride-on-the-blade water distribution system supplies water to both sides of blade
Hinged blade guard for easy blade changes and inspection
Adjustable height handlebar with vibration isolation mounts for operator comfort
Rigid frame front pointer with high visibility and adjustable guide wheel
High density powder-coating resists peeling & corrosion
Saws include built-in depth gauge, 6 gallon water tank and lifting bail
One-year limited warranty
Part #
172739
Engine
Honda GX390
Arbor Size
1" (25mm)
Blade Capacity
18" (457mm)
Depth of Cut
6-5/8" (168mm)
Blade RPM
2,530
Weight
253 lbs.
LxWxH (inches)
48" x 20" x 41"
Blade not included with saw
Engine power ratings are calculated by the individual engine manufacturer and the rating method may vary among engine manufacturers. MK Diamond Products makes no claim, representation or warranty as to the power rating of the engine on this equipment and disclaims any responsibility or liability of any kind whatsoever with respect to the accuracy or the engine power rating. Users are advised to consult the engine manufacturer's owners manual and website for specific information regarding the engine power rating.