MK-101 Tile Saw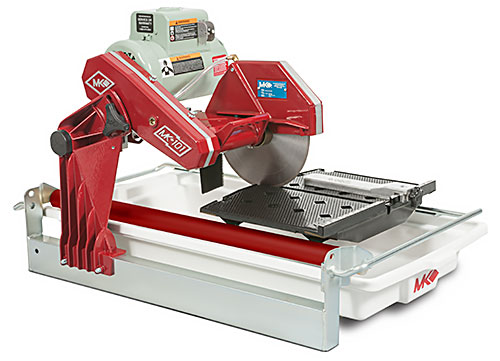 The MK-101 features a powerful, high torque, fan-cooled motor and one-piece unitized steel frame. The linear guide bar system provides precise cutting on the entire length of the cut. The blade guard has been engineered to provide optimal water flow and is wide enough to accommodate a profile wheel.
Commercial grade, fully enclosed, high torque, fan-cooled motor
Permanently lubricated, dual-sealed, heavy-duty blade shaft bearings
Multi-position motor post and cutting head allows operator to configure saw for convenient cutting of both large and small tiles
Built-in water distribution system supplies water to both sides of blade
Variable height cutting head allows for plunge cuts
Accommodates 6" and 8" profile wheels
Micro V-belt drive for maximum horsepower transfer from motor to blade
Blade shaft lock for easy blade removal
Linear-bearing and chrome plated guide-bar assembly ensure precise cutting
Cast aluminum blade guard and motor post
One-piece reinforced zinc-plated steel frame
Includes 10" wet cutting diamond blade, water pump, rip guide, and 451÷4 bullnose miter
Made in the USA
CSA Approved.
One-year limited warranty
Part #
151991
Voltage
120V
Horse Power
1-1/2 hp
Blade RPM
3,450
Blade Capacity
10" (254mm)
Arbor Size
5/8" (16mm)
Depth of Cut
3" (76mm)
Length of Cut
20"
Diagonally Cuts
14" Tile
Weight
92 lbs. (42 kgs.)
LxWxH
36" x 22" x 23"
LxWxH (mm)
914 x 559 x 584
Shipping Method
UPS / Fed-Ex
Motors available in other electrical configurations.