HP30 Slab Saw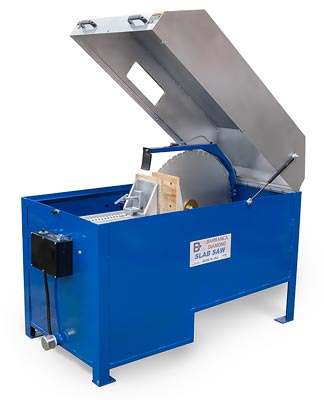 2 Hp continuous duty commercial grade motor with thermal overload protection and manual reset
Fully sealed drive shaft bearing housing
Rolling element linear bearings in carriage for ease of movement over main guide rails
Screw drive vise carriage with automatic shutoff
Silicon bronze clutch block carriage feed engagement system
Continuously variable vise feed rate, 0-0.5 in./min.
Chrome plated cast iron parts allow use of waterbased coolants
Powder coated reservoir and zinc plated hood
Reservoir bottom drain for ease of sludge removal
Large capacity oil/sludge reservoir
Submersible pump system provides lubrication, flushing and cooling
Part #
168084
Motor
2 hp
Voltage
220V/60Hz
Amperage
8
Motor RPM
1725
Blade RPM
380
Arbor
1"
Blade Capacity
30"
Depth of Cut*
12.5"
Vise Opening
18"
Coolant Required
25 Gallons
Blade Lubrication
Submersible pump
L x W x H
67" x 37" x 49"
Weight
875 lbs.
Blade not included with saw.
*Maximum depth of cut will vary depending on size and shape of specimen.
Warranty Period: 1 year from date of purchase against all manufacturing or material defects.
Manufacturing period 6 weeks from date of order.
220 volt 50 or 60 Hz motors are available by special order.
Contact MK Diamond Customer Service for ordering information.