SDG-11 Gas Single Disc Grinder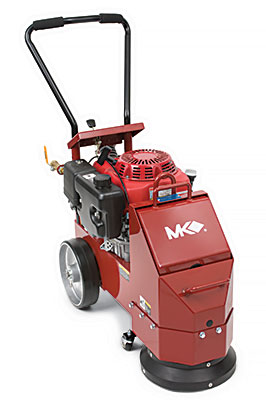 The MK SDG series grinders are excellent for smoothing rough areas and other surface irregularities, feathering patches and cleaning industrial floors. The front tapered nose provides enhanced visibility and the removable handles and nose weight provide for easy transportation and storage. Water control valve is included for wet grinding.
Utilizes 10- or 20 segment 10"-diameter diamond grinding discs to level, smooth or clean the top surface of concrete slabs
Provides a smoother finish compared to other methods such as scarifiers or scabblers
Two-position wheel carriage
Front taper for enhanced visibility
Removable nose weight for easy transportation
Dust shroud contains grinding debris
Water control valve is included for wet grinding
Works on concrete slabs, terrazzo, ceramic tile floors, brick and stone
One-year limited warranty
Part #
157377
Engine*
Honda GXV340
Disc RPM
980
Disc Capacity
10" (254mm)
Ballast
70 lbs. (32 kg.)
Weight
212 lbs. (96 kg.)
LxWxH
40" x 16" x 42"
LxWxH (mm)
1,016 x 406 x 1,066
Grinding Head not included.
Engine power ratings are calculated by the individual engine manufacturer and the rating method may vary among engine manufacturers. MK Diamond Products makes no claim, representation or warranty as to the power rating of the engine on this equipment and disclaims any responsibility or liability of any kind whatsoever with respect to the accuracy or the engine power rating. Users are advised to consult the engine manufacturer's owners manual and website for specific information regarding the engine power rating.