DDG-5 Electric Double Disc Grinder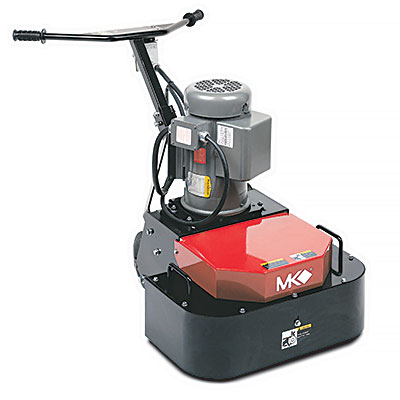 MK DDG series grinders have been designed with two counter-rotating heads that prevent pulling. Ergonomically designed handles provide improved handling and comfort. Vacuum port allows for dust-free dry grinding. Water control valve is included for wet grinding.
Uses two 10- or 20 segment 10"-diameter diamond grinding discs to level, smooth or clean the top surface of concrete slabs
Provides a smoother finish compared to other methods such as scarifiers or scabblers
Counter rotating discs provide balanced torque to prevent pulling left or right
Can also be used to level small areas of uneven joints or high spots of 1/16 to 1/8 inch
A 22" grinding width makes for quick removal
Wide ergonomically designed T-grip handle for easy handling and maneuvering
Dust shroud contains grinding debris
2" vacuum port for dust-free operation
Water control valve is included for wet grinding
Two-position wheel carriage for grinding and easy transport
Works on concrete slabs, terrazzo, brick and stone and ceramic tile floors
Part #
158780
Engine*/Motor
5 hp 230V
Disc RPM
550
Disc Capacity
10" (254mm)
Weight
271 lbs. (123 kg.)
LxWxH
50" x 25" x 40"
LxWxH (mm)
1,270 x 635 x 1016
Grinding heads not included.