Canoga 300GH Front Load Mixer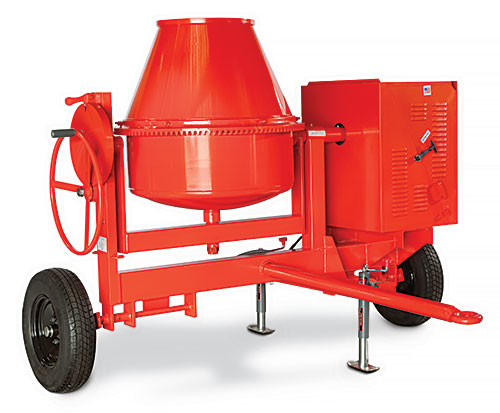 The Canoga 300GH front load towable mixer has the same features as the 300 series with the benefit of a front load drum. This system allows material to be moved from the truck bed directly to the mixing drum and to operate without having to disengage the mixer from the vehicle.This feature provides greater safety to the operator so as to not cause the operator to stand in traffic during mixing operations.
Drum fabricated from 10 gauge steel with 1/4" bottom and 3/8" reinforcing ring
Three paddles with three blades each plus three open type bowl gussets for superior mixing and easy cleaning
Forty-nine possible drum positions with machine cut gears for easy turning and gravity latch for secure drum locations
Engine house mig welded using 12 & 14 gauge sheet metal with heavy duty piano hinge for durability
Motor mounted on heavy duty angle iron to reduce vibration and fatigue
Torsion Bar Suspension for smoother ride
Chassis and yoke designed from structural tubing and channel for greater strength
Removable 2-1/2" diameter towing tongue with heavy duty safety chain
Part #
167940
Motor
Honda GX240
Batch Capacity
1-1/2 to 2 Bags
(9 Cubic Ft.)
Total Volume
15 Cubic Ft.
Drum Diameter
34"
Drum Depth
38"
Drum Opening
19"
Drive
Dual V-belts & gear
Axle
Torsion-Bar
Wheels
5.0 x 13"
Tires
ST175/80D 13C
6 ply Bias/Load Range C
LxWxH
88" x 96" x 73"
Shipping Weight
1,060 lbs.