Sawtec Abrasive Grinding Discs
Sawtec ZEK Abrasive Grinding Disks are long lasting, inexpensive, aggressive discs that are designed for removing mastic, epoxies, paint, urethane coatings, carpet glue and stucco off concrete. The silicon carbide material provides aggressive removal of coatings without loading up the disk. The reinforced plastic backing eliminates the need for backer pads. Two diameters are available: 4-1/2" and 7", both with 7/8"-5/8" arbors. Sawtec grinding disks meet Type 27 grinding wheel performance requirements, per ANSI B7.1. 8,500 Maximum RPM.
Four grits are offered for different coating removal applications:
8 Grit Rough, aggressive removal of heavy coatings
16 Grit Heavy-duty removal of mastic, epoxy and urethane coatings
24 Grit Light-duty for light coating removal
36 Grit Light scuffing & cleaning with minimal removal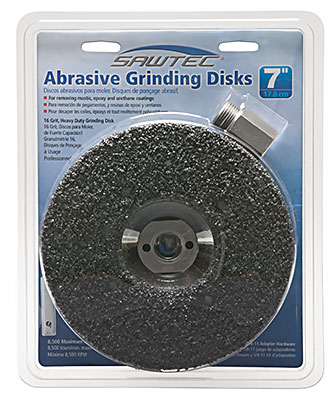 3-Pack Sawtec ZEK Abrasive Grinding Disks*
Diameter
Grit
Arbor
Part #
7"
(178mm)
8
7/8"-5/8"
168602
7"
(178mm)
16
7/8"-5/8"
167755
7"
(178mm)
24
7/8"-5/8"
168603
7"
(178mm)
36
7/8"-5/8"
168604
*Right-angle grinder adapter included.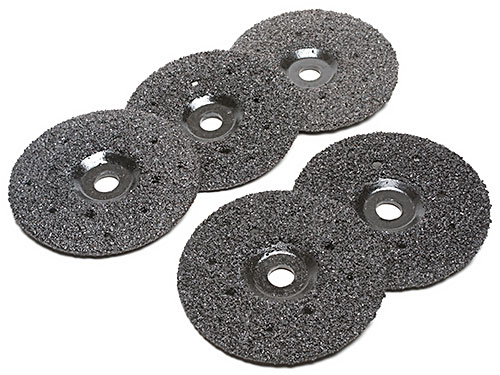 5-Pack Sawtec ZEK Abrasive Grinding Disks
Diameter
Grit
Arbor
Part #
4-1/2"
(114mm)
8
7/8"-5/8"
167840
4-1/2"
(114mm)
16
7/8"-5/8"
167841
4-1/2"
(114mm)
24
7/8"-5/8"
167842
4-1/2"
(114mm)
36
7/8"-5/8"
167843
7"
(178mm)
8
7/8"-5/8"
167836
7"
(178mm)
16
7/8"-5/8"
167837
7"
(178mm)
24
7/8"-5/8"
167838
7"
(178mm)
36
7/8"-5/8"
167839
---
---